They are the life blood of the gaming industry. Without them, gamers would not get to experience the memorable titles we've seen this generation. I'm talking about the games that the media can't stop talking about. The ones gamers keep playing for years. They get you excited, you want to take a vacation from work and play till you've completed the missions. You cry, laugh, you get scared, and sometimes your rage makes you want to throw the controller into the television.
None of the aforementioned experiences would be possible without developers. And today, GamesThirst honors the best of the best. Most of them do a good job with the games they develop, but some are downright outstanding. Join us as we count down to the number one game development studio of this the seventh generation of gaming consoles.
10. Media Molecule ~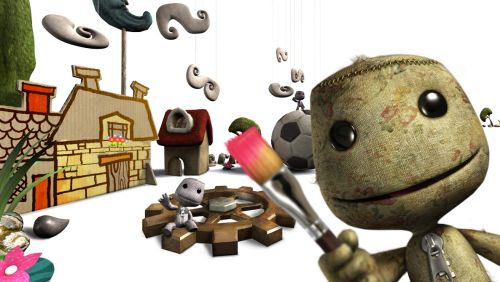 The company came out swinging with what would later be one of the most brilliant games of any generation. LittleBigPlanet captured the hearts of gamers young and old world wide, and has managed to build a very dedicated online following, one that has fully realized the potentials of the play, create, share concept. The concept was ingenious, the tools of creation were revolutionary and very easy to use.
LittleBigPlanet is well on its way to sell over 3 million copies worldwide, which has given Media Molecule the ammo it needed to press forward with yet another title. Mod Nation Racers was announced as an exclusive PS3 title at E3, the racing game builds on the play, create, share concept and will allow you to create tracks, environments, set the type of weather conditions, and dictate the overall feel of what you're creating.
Although Mod Nation Racers is being developed by United Front, it's always awesome when another company deems your idea as good enough to implement in their game, another testament to MM's talent and potential. There's no doubt that the company has a bright future, and a bright spot on our list as they secured the number 10 spot.
9. Guerrilla Games ~
Rarely has so much buzz and hype build for any one game. In fact, we reckon it was the biggest hype train for any title in history. Why? Well the hype was not started by Sony or even Guerrilla, it was the fanbase of the game that helped in garnering attention to a title that not many had played.
The original Killzone was released on the PS2 and although the reviews were mixed, the game went on to sell pretty well, with over 2 million copies world wide. Killzone Liberation was later released on PSP which also was a decent title.
However It was with PS3 GG shined the brightest. You see, hype buildup for a title can be a good thing and it could turn out really bad. The bad: if you don't deliver, then your game stands the chance of being remembered forever as a failed title, (Haze anyone?). The good: If you succeed in making the game a blockbuster, then it'll be a cash cow for decades and will be remembered as an awesome game. We believe Guerrilla succeeded at doing the latter.
Killzone 3 is rumored to be heading our way late next year, which is not far fetched if you put into consideration that the studio already has the engine and protocol to make the game. Whether it's next year or the year after, you can expect even a bigger and better game from Guerrilla, and expect them to be high on our list at number 9.
8. 2K Games ~
Companies that manage to bring an experience that has never before been forged, should always be on any list that sets out to honor those in the same field. 2k Games is one of those companies. Although the studio has developed over 20 games, including the recently released Borderlands which has been praised universally, no other title in 2K's library stands out more than the awesome Bioshock franchise.
First released for the PC and Xbox 360, the game was later made available for the PS3. But what makes Bishock so different? Everything about it; in fact, some up to this day don't feel comfortable with labeling the title as a shooter. Well it's different shooter that's for sure. Narrative driven, and overall outstanding effort, 2K has a gem that'll entertain gamers for years to come.
The sequel will be released next year for the PC, Xbox 360 and PS3. Not many developers have achieved what 2K has, and the number 8 spot on our list is well deserved.
7. Bungie ~
There should be no doubt in anyone's mind about what this studio has accomplished over the years, and this generation is no different. You may recognize them for the bestselling Halo franchise but did you know the studio also has developed other great titles? Oni, Myth series, Marathons series, these are just some of the other games that are given less attention but are pretty enjoyable.
But back to the Halo Franchise, without it, there would be no Xbox; period. It single handedly propelled the console to recognizable status in a generation that was dominated by the ubiquitous PS2. Halo is literally the definition of console seller. Bungie has been around for quite some time now, starting their run on PC and eventually signing an exclusive deal with Microsoft to make Halo games for the software giant's console.
The developer is now an independent studio, so hopefully we should see their games come to all consoles, or at least the Xbox 360 and PS3. One things for sure, they're sitting pretty on our list at number 7.
6. Bethesda ~
Some may think it's an easy task, but to make a game that's fun and exciting plus hours upon hours long, it takes a lot of brainstorming, and many sleepless nights. Bethesda has not only accomplished the task, but they've done it with more than one or even two titles. The studio deserves a round of applause from the entire gaming community for hits like: Wet, Fallout 3, The Elder Scrolls IV: Shivering Isles, The Elder Scrolls: Oblivion, just to name a few.
Only a fool would overlook a company that has been in existence for over 23 yrs; that's older than a lot of the boys who call themselves gamers. And much more experienced than some of the studios who only recently set up shop and now think they're the "it" (*cough* Valve *cough*).
Also, the veteran developer has two big titles under development now, Brink and Rogue Warrior, set to release next year and the year after. But today, they're set at number 6 on our list.
And now we've arrived at the 5 most outstanding developers this generation, here you'll find the Studios that have demonstrated the most passion, dedication and commitment to bring us the best games available. Without them, gaming would be a dying past-time. Help us give praise to:
5. Insomniac ~
They've been in the industry since 1994, and from their arrival, the studio has been pumping out great games like the long running Spyro the Dragon and Disruptor. They've given PS3 owners nothing but solid fun with games like: Ratchet and Clank: ACIT,Resistance: Fall of man and Resistance 2. Ratchet and Clank: ACIT came out a few weeks ago and some hailed the conclusion as an end fit for a magnificent and entertaining series.
Both Resistance games went on to sell over 2 million copies, and if rumors are to be believed, we'll be getting our hands on yet another title by the end of 2010. For PS3 owners, Insomniac is a beloved studio that adds great value to the platform and crucially needed games to the PS3's ever growing line of exclusive IPs. They're placed at the crucially important position of number 5 on our list.
4. Bioware ~
Once a developer can cause gamers to want their game so bad that anytime a rumor hits concerning the title arriving on their [gamers] console of choice that the entire internet goes wild, you know said developer has achieved something special. Bioware, is one of those companies. The studio recently released Dragon Age: Origins which has received excellent score across the board, and is now preparing for the launch of their biggest game yet: Mass Effect 2.
The game will be available early next year for the PC and Xbox 360, but PS3 fans have been drooling at the opportunity to get this one on their system. Don't be fooled however, Bioware has developed over 21 games; which stands as a testament to it's staying power and relevance in the industry and on our list at number 4.
3. Rockstar Games ~
What else needs to be said about the studio that has managed to release a game that's the biggest entertainment launch of all time? Not much. Mention Grand Theft Auto and gamers the world over will recognize the controversial franchise. On April 29th, 2008, Grand Theft Auto IV sold $500 million worth of the game in one week, shattering all previous records with 3.6 million copies of the title sold on day one.
Not many studios have had such an impact on the industry like Rockstar and now, they're developing an exclusive for the PS3 titled Agent. Grand Theft Auto: Ballad of Gay Tony was just released, and before it the PSP title Grand Theft Auto: Chinatown Wars.
Other games to be released next year includes Red Dead Redemption, and some even predict that GTAV will be released in 2010. Without a doubt, Rockstar is a revolutionary company dedicated to bringing its fanbase the content they desire. That desire has secured them the number 3 spot on our list.
2. Naughty Dog ~
Naughty Dog, what can we say? They've done more for gaming this generation in terms of taking gameplay, narrative and storytelling to another level than any other developer; and for that we clap our hands thunderously for them.
Again, Naughty Dog is another team that has been around for over 23 years. It's the studio behind classics like Crash Bandicoot 1, 2, and 3 which went on to sell over 23 million copies combined, that's a million for every year they've existed. But that's not all, if you're not familiar with the Jak and Daxter franchise, then you have not been gaming very long, indeed you are a newcomer if you haven't experienced the dynamic duo take down evil forces over and over again, and now rumors are running rampant about a new iteration for the PS3.
The company said that with every new console, they develop a new IP, that's why Crash Bandicoot was on the original Playstation, Jak and Daxter on the PS2 and now, the Uncharted franchise on the PS3. Naughty Dog has caused developers from across the board to reassess how they create their titles, and to compel such change, your creation must be one that's game changing. And that's exactly what they've done with Uncharted 2: Among Thieves, and we've done our part by placing them at the number 2 spot on our list.
1. Infinity Ward ~
We could hear angry readers now, claiming this position given to the developer is unfair and another studio that has been around longer, developed more games etc. should be number one. We hear you loud and clear, but remember, this is not about which developer has been outstanding for the length of time they've been operating; it's pertaining to this the seventh generation of consoles. The irony is that the same folks who will complain about this spot allotted to the studio, already have Modern Warfare 2 on pre-order. Why? Because it doesn't matter how much people may complain about varying issues, they know they must buy Call of Duty: Modern Warfare 2; yeah, Infinity is that great, and the game is that big.
It will outperform Grand Theft Auto IV to become the biggest entertainment launch of all time. Retailers around the world are stocking their shelves with millions of copies to be gobbled up within days by gamers. But some may be curious as to why such an unrelenting buzz, and for that, we'll have to time travel back to November, 2007.
At that time, the Call of Duty franchise was in a downward spiral heading straight to mundane status and eventually becoming extinct. Over the years the COD games were basically the same with different locations and situations of World War II. Obviously, gamers were getting tired of the same old stage, with the same old guns with different enemies. Everyone thought the franchise would eventually come to a screeching halt. But one studio saved the day.
Not only did Infinity Ward save the Call of Duty franchise, they propelled it to heavenly heights when the massively successful COD: Modern Warfare was released. Because of it, Treyarch's effort - COD 5: World at War was a success. Because of Infinity, Activision will gross over a billion dollars on one game.
Gamers all over the world, millions of them will be simultaneously shooting at each other on Xbox Live and PSN. Some won't report to school, others have already taken vacation. They'll be at midnight launches all across the United States and various parts of the world. Indeed, for one studio to create such a game, doesn't matter how long or how short they've been around, said company must be considered for the top spot.
Infinity Ward was founded in 2002 by 22 members including all the leads of Medal of Honor: Allied Assault Team and were soon acquired by Actvision in 2003. Since then, they've over doubled in size with over 100 plus talented members.
You can't deny the studio's influence, and we will not deny them the number one spot on our list. Now go out and by MDW2, and join us online.